Conference Venue
---
Note: Under this special pandemic situation, ICKE 2023 will be held with hybrid online and offline.
Shonan Institute of Technology
Address: 1 Chome-1-25 Tsujidonishikaigan, Fujisawa, Kanagawa 251-8511, Japan (〒251-8511 神奈川県藤沢市辻堂⻄海岸1-1-25)
Shonan Institute of Technology is a four-year university founded over 50 years ago. It offers course work in a strong engineering curriculum. Academic departments include mechanical engineering, electrical and electronic engineering, information science, applied computer sciences, multidisciplinary design science, and materials and human enviornmental sciences. Students can study and thrive in a relaxing settings: SIT is located next to the sea and thus offers a pleasant and healthy environment in which to learn new things using machines and computers.
More about the university, please download the introducation here.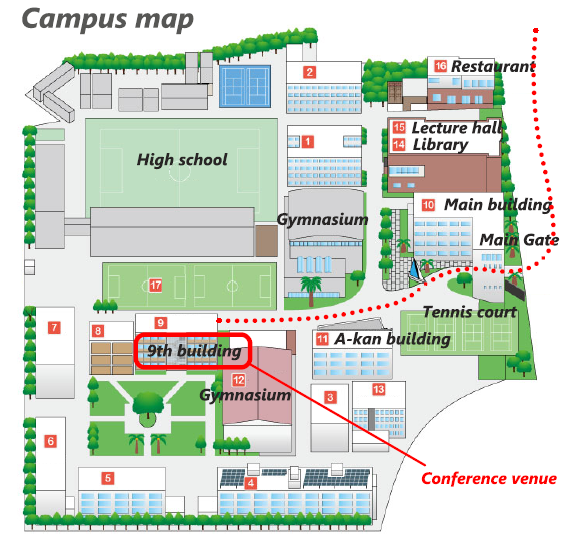 Accommodation information around Shonan Institute of Technology:
[Tsujido Station (closest station to the university)]
(1) Dai-ichi Inn Shonan
1-4-14,Tsujido,Fujisawa, Kanagawa, 251-0047 Japan
Tel. +81-466-36-4411
https://www.hankyu-hotel.com/en/hotel/dh/shonan
[Fujisawa Station (one stop from Tsujido Station)]
(2) Hotel Wing International Shonan-Fujisawa
109-5 Fujisawa, Fujisawa city, Kanagawa, 251-0052 Japan
Tel. +81-466-55-1112
http://www.hotelwing.co.jp/shonan-fujisawa/en/
(3) Hotel Hokke Club Shonan-Fujisawa
1 -6-1 Kugenumaishigami, Fujisawa, Kanagawa, 251-00251 Japan
Tel. +81-466-27-6101
https://global.hokke.co.jp/shonan-fujisawa/en/
(4) Toyoko Inn Shonan Kamakura Fujisawa-eki Kita-guchi
515-1 Fujisawa, Fjisawa city, Kanagawa 251-0052 Japan
Tel. +81-466-53-1045
https://www.toyoko-inn.com/search/detail/00115/?lcl_id=en
(5) Almont Inn Shonan-Fujisawa
110-4 Fujisawa, Fujisawa-city, Kanagawa, 251-0052 Japan
Tel. +81-466-55-2441
https://www.almont.jp/shonan/
(6) Sotetsu Fresa Inn Fujisawa-Minamiguchi
22-17 Minami-Fujisawa, Fujisawa-shi, Kanagawa, 251-0055 Japan
Tel. +81-466-99-0203
https://sotetsu-hotels.com/en/fresa-inn/fujisawa/
(7) Smile Hotel Shonan Fujisawa
19-12, Minamifujisawa, Fujisawa-shi, Kanagawa, 251-0055 Japan
Tel. +81-466-23-1116
https://smile-hotels.com/hotels/show/shonanfujisawa