Submission
---
Formatting
Each paper is limited to 5 pages normally, and additional pages will be charged. Please follow the Conference format.
     •  Formatting Instructions (DOC)

Submission Method: Electronic Submission System (.pdf)
---
The topics of ICKE cover Knowledge Engineering and other topics.
All accepted papers of ICKE 2019-2021 have been recommended to publish in the International Journal of Knowledge Engineering.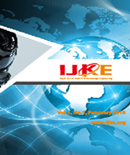 ISSN: 2382-6185
Frequency: Quarterly (2015-2016); semiyearly (Since 2017)
DOI: 10.18178/IJKE
Indexed by: Google Scholar, Crossref, ProQuest
---
Paper Page Limit:
Regular Papers: 5 pages, including all figures, tables, and references.
PURCHASING EXTRA PAGES: Regular Papers:
Extra page may be purchased at $50 (US dollars) each.
After your submission(Electronic Submission System), kindly send email to us  ickeconf@126.com  
---
Policy on Plagiarism
ICKE is utterly intolerant of plagiarism. Submitted papers are expected to contain original work executed by the authors with adequate, proper and scholarly citations to the work of others.Reviewers are charged to ensure these standards are met.